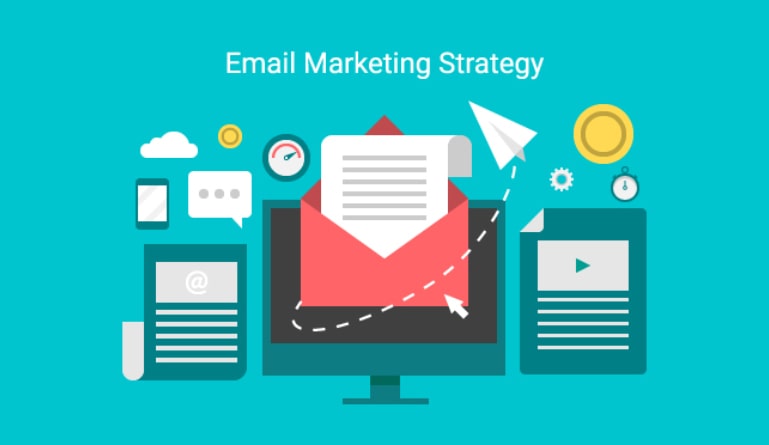 The following email marketing statistics will blow your mind.
As a business owner, you should know the importance of keeping things in budget when it comes to marketing. The last thing you want to do is invest your money or time in the wrong direction.
But with email marketing, you have little risk of that happening. Why?
Because email marketing is one of those marketing methods that has stood the test of time. Business owners of all sizes have leveraged it over the years to reach out to their target audience and increase their sales numbers.
However, the question is, do we have any reliable email marketing statistics to back up these claims?
Of course! And being a business owner, it's important that you are aware of these email statistics. It allows you to confidently invest in email marketing to grow your business.
Also, if you are handling the marketing side of your business, you will need to have the know-how of the major email marketing statistics. They will help you justify your costs and see the real value in email marketing.
Before we get into many of the proven email marketing statistics, it's worth knowing that email marketing works better than any other digital marketing method out there. Because it is known to fetch you a 4,400% return on investment, which is huge.
Econsultancy's 2017 Email Marketing Census confirms this, with almost three quarters of 689 company respondents rating it as good or excellent for ROI. The highest proportion of any channel cited.
The good thing about email marketing is it goes beyond just helping you convert subscribers/leads into customers/clients. It also gives you an edge over the competition by making it easy for you to…
Improve the overall customer journey and take it to the next level.
Get in the forefront of customer's minds by creating strong brand awareness.
Give prospects/customers customized experiences that they can spread the word about.
Enhance the lifetime value of customers by delivering real value on a consistent basis.
Now that we have a little bit of background on email marketing, let's look into 10 eye-opening email marketing statistics that will convince you (or your partner) why email marketing is worth your time.
10 Eye Opening Email Marketing Statistics
Statistic #1: Email Use Worldwide Will Top 3 Billion Users By 2020
Let's start our list of email marketing statistics starts off with a study done by Radicati Group, which predicts that the number of email users will grow beyond 3 billion people by 2020. In other words, a massive chunk of the world's population (almost half of it) will be using email soon.
In fact, if you look at the current email usage, Gmail (one of the fastest growing email apps), had more than one billion users worldwide in 2016 as reported by Statista.
The fact is email is not going anywhere. We have all seen how social media can come and go. But email has always been here. It continues to grow stronger and will yield even better results in the coming year.
Even though social media has been growing fast and sites like Facebook and Instagram are adding users by the loads, it still do not come close to the reach and might of email. Ask any experienced digital marketer and he/she will tell you that email is actually the biggest "closed" social network out there.
Regardless of how you're promoting your business currently, you should add email marketing to the mix because it's a sure-shot way to connect to your target audience at no cost. By building a relationship with prospects and customers via email, you stand a better chance of gaining repeat business in the long run.
The bottom line is: email is one medium that acts like a backbone to communication that happens on the Internet. So when you don't take email seriously, it'll get difficult to build a sustainable business on the web. And that's exactly what you want to avoid.
Statistic #2: Email List Segmentation Leads to Lower Unsubscribe Rates
When Lyris, Inc. surveyed email marketers that use list segmentation, they found that the majority of them saw an increase in open rates and even lower unsubscribe rates.
According to another study conducted by MailChimp, segmented email marketing campaigns can increase open rate by 14.65% when compared to non-segmented campaigns. They also found list segmentation boosts click-through rate by a whopping 59.99%.
Of all the email marketing statistics, this one just goes on to show the importance of segmenting your email list in the best possible way. The main reason why segmented emails work so well is they are highly relevant. These emails are tailored to each subscriber based on critical data such as:

Age
Gender
Location
Behavior
Interests
Life cycle stage
The whole idea behind sending segmented emails is to avoid sending generic emails to everyone on your email list.

The content that you send to your subscribers has to be useful and relevant to their needs/wants at all times. If you insist on sending emails that are irrelevant, subscribers will eventually get fed up and leave your list or maybe even send your mail to the junk folder.
If you look at other email marketing statistics as to why emails are not working for some marketers, you'll find that one of the reasons is lack of relevance.
According to MarketingProfs, more than 40% of marketers that use email marketing ignore sending targeted email messages. And less than 5% of them use layered targeting, which is a mistake.
What does this tell you? Succeeding with email marketing is becoming harder and harder for brands that are sending out generic emails without any intelligently segmenting their email list. If you want to add relevancy to your email marketing, then you will have to send emails that are hyper-targeted.
If you look at your own inbox, you'll find that the best emails are the ones that are targeted specifically to you. It shows that these companies/brands care about you and your interests. And that's why email marketing is working for them.
Remember, it's okay to send out promotional emails to your whole list from time to time. But do take advantage of list segmentation consistently.
Statistic #3: Open Rates for Personalized Emails Average 18.8%
In a study conducted by Statista, it was found that personalized emails fetch 18.8% more opens than non-personalized emails, which only get 13.1%.
In another research carried out by Experian Marketing Services, they discovered that personalized email subject lines helped get 26% higher unique open rate, with travel companies seeing the most benefit from it.
In yet another study done by Aberdeen Group, they found that personalized email messages were responsible for improving click-throughs on CTA links by an average 14% and conversion rates by 10%.
It was supported by a research done by HubSpot saying emails that have the recipient's first name on the subject line garner higher CTR than emails that don't. It's a great way to tell your customers that this message is completely about them. It helps your message to stand out from the rest of the emails in their inbox. And if you're using an email automation tool, then this should be easy.
Personalization has always been a topic of discussion in the email marketing circles. Over the years, multiple studies have proven the power of personalized emails. Today, not personalizing is an email marketing mistake that you cannot afford to make.
Statistic #4: 59% of B2B marketers say email is their most effective channel in terms of revenue generation
According to Emma Marketing Software, 59% B2B marketers claim email has proven to be the best marketing channel when it comes generating more revenue.
Let's face it; the reason you're using email marketing is so that you gain more business. Getting your emails opened and have your subscribers click on your links is great. But these are only vanity metrics if you're not experiencing a higher revenue.
Email has time and again proven to be a good mode of communication to convey your marketing messages and boost revenue. It's no surprise that businesses that successfully use email marketing see it as a channel with the highest potential to drive revenue.
If you've tried email marketing in the past, you know it requires a bit of trial and error, especially if you are new to it. So if you are looking out increase revenue and achieve a better return on investment from your email marketing efforts, you need to focus on improving your conversion rate.
Here are a few things you can do to ensure you're converting more of your email list into revenue:
Send your email traffic to a dedicated landing page (applies to both old and new customers), instead of sending people to your homepage or a page with multiple offers.
Use a solid call-to-action that actually pushes readers to take action. Give them a reason and a benefit to do so.
In order to send the right offer to your email list, test multiple offers and gauge the response of your subscribers. See which of the offers motivates them to hit the buy button.
Last but not least, increasing revenue with email is a long-term game. So focus on building long-term relationships with your subscribers. That's how you get a good return on investment – without being impatient.
Statistic #5: 86% Of Professionals Prefer Using Email When Communicating For Business Purposes
Another major one on our list of email marketing statistics is the fact that 86% of professionals give email preference over other communication mediums when it comes to business purposes.
Is email marketing really effective?
Like they say, the proof lies in the pudding. If you analyze the above email marketing statistics, you'll see that the majority of business professionals see email as the best medium to connect, rating it even above face to face meetings and telephone conversations.
Ask yourself, why does email get so much importance? In simple words, because it works in terms of giving real-world results. Or else you wouldn't find serious professionals choosing it to work on their business-related activities.
Also, email has a certain comfort factor when helping initiate new conversations. Which can then later on be taken forward over the phone or face to face. Which makes email also the first mode of communication before taking a business deal further.
There are many professionals today in all fields that regularly use email to grow their business and network with their peers. So it shouldn't come as a surprise if you do the same and end up getting better results over a period of time.
Statistic #6: Email is the third most influential source of information for B2B audiences
Imagination Publication reported email as the third most influential source of information for B2B audiences, behind only colleague recommendations and industry-specific thought leaders.

Could that be one of the reasons why 93% of B2B marketers leverage email marketing?
If you look into all the popular email marketing statistics, this one is a no-brainer. If you own a business and want to build a solid brand, you need to build influence. That's how you gain customers. Or rather customers that want to spread the word about your brand. And email is great way to do that.
Now, this is a no-brainer. If you own a business and want to build a solid brand, you need to build influence. That's how you gain customers, or rather customers that want to spread the word about your brand.
Having a solid email marketing strategy where you really care about your prospects/customers and strive to give them real value goes far. It gives you the permission to reach their inbox and connect to them on a higher level. In exchange, they give your brand the respect it deserves, which makes you more influential in your niche.
People like learning from trusted sources when it comes to gaining information. The two factors that rank above email – colleague recommendations and thought leaders – are in themselves sources of quality information. Most people are in fact influenced by them because they trust them.
Having email come third after these two super-reliable sources says that it's a great medium to build solid relationships that are based on trust, and actually sell more of your products and services.
The key word here is trust, that is required to create relationships that help you bring in business again and again. In order to ensure your building trust at every step, make sure you:
Send emails that are not centered around your brand or product. Make them customer-centric because that's how you'll win their trust. The more you make it about them, the easier it will be for you to convince them to invest in your brand and feel connected.
Focus on nurturing your leads and giving amazing value to your existing customers with the help of email. There's no use rushing to make the sale as it's only going to backfire.
Send them a variety of information that sets you apart from the competition and establishes your thought leadership. Don't just stick to sending the same old generic tips. Give them advice that you would give to a friend.
Avoid turning your emails into sales pitches. Rather, make them into pieces of content that your subscribers are proud to read and share with others. Your products and services obviously solve a few pain points; create content around them.
Statistic #7: 50% of Consumers Buy From Marketing Emails At Least Once A Month
Sales Cycle found that 59% of consumers claim that their purchase decisions are in fact influenced by marketing emails. And 50% said that they buy from a marketing email at least once a month.
Gone are the days when people were hesitant to make a purchase online. Today, more and more people are buying products/services of their choice over the web, and that too on a regular basis.
What makes email an interesting marketing medium is that people see it as their most private space. In other words, if someone's letting you into their inbox, you're going to get a lot more attention from them than you'll get on their Facebook or Twitter newsfeed.
People actually take notice of emails and open them consistently if you are delivering the good stuff. So it's not really surprising that email has a key role to play in purchase related decision making for more than half of the consumers.
When a brand regularly emails its list with a mix of content and relevant offers, it becomes easy for it to drive back laser targeted traffic to the product page.

If your brand hasn't taken email seriously in the past, now's the time to do so. Because real-world email statistics prove that you can get more people to buy from you using email marketing.
Statistic #8: Mobile Now Accounts for 55% of Email Opens
According to the email marketing related statistics collected from the Litmus State of Email report, mobile now accounts for an amazing 55% of the total email opens.
Also, with the growing use of smartphones, there's no doubt that a large number of consumers are using them to not only access their email, but also make purchases.
If you are a business that wants to see results with email marketing, you'll have to focus on reaching out to your email subscribers on their mobile phone in the most creative ways.
Constant Contact says that 88% of smartphone users check their email on their mobile device regularly. Which makes email even more powerful than creating and launching your own app on either Android or iPhone.
Lastly, you should try to improve your email subscribers' experience on mobile because it has been found by Campaign Monitor that 52% of customers may not want to engage with a company that offers a poor mobile experience.
In short, focus on giving mobile users a better experience, as it is the key to gain new customers and retain the old ones — especially when they are browsing your email content.
Statistic #9: Welcome Emails Drive 320% More Revenue than Other Promotional Mailings
WordStream reports, on average, 320% more revenue is attributed to welcome emails (on a per email basis) than other promotional emails.
Who knew welcome emails could be this effective when it comes to bringing in the moolah? It's impressive, and true.
Most marketing experts preach the importance of getting more revenue from existing customers, which is why they stress on repeat sales. However, in doing so, your business should not ignore the new people that get in your email list.
Creating a smooth onboarding experience can be the key to unlocking more revenues that previously didn't exist. Whether you're spending money or time to get prospects/customers on your list or not, you should spend enough time on perfecting your onboarding process. Because that's how you'll be able to take advantage of the potent welcome email.
One of the best ways to make the most of your welcome email is to use the infamous drip email strategy, so that people who have not converted with the welcome email, can get converted with other emails in the series.
Here are a few things that you'll see welcome emails doing:
Welcoming new prospects or customers
Thanking new subscribers
Introducing people to your brand or product
Asking new subscribers about their most pressing challenge
Sending the latest issue of your newsletter or ezine
Sending them the first lesson of your email series
Sharing latest research/resources
Also, try to keep your welcome emails short and to the point, because more than 60% welcome emails are only 50 to 150 words long.
Statistic #10: People Who Buy Products Marketed Via Email, Spend 138% More than People that Do Not Receive Email Offers
Not everybody receives promotional emails, but the ones who do are more likely to spend more on online purchases. At least that's what the research published on Convince and Convert says:People who buy products or services as a result of being exposed to a promotional email, end up spending 138% more than people who do not receive email offers.
Talking about email marketing statistics, this one is very straightforward. It can't get more clear than this.

When you invest in email marketing, you are going to get people to spend more money on your products/services. Which means you'll be increasing your revenue without adding anything more to your existing products/services.
Wrapping up Email Marketing Statistics
Now of course we weren't able to cover all of the email marketing statistics out there. But we wanted to point out the ones we felt (in our expert opinion) were the most beneficial for you as a business owner to know.
Were you shocked by any of these statistics? Or have you come across some other email marketing statistics you found helpful? Share them with us in the comments below. We love to hear from our readers!
About The Author