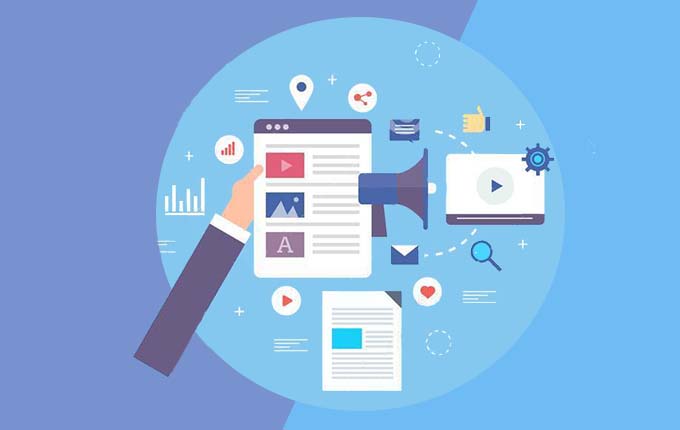 Content marketing is the future, because that's where the Internet is headed. The technique is being used by both big and small businesses to not only build a brand, but also grow their profits.
And the best part? It's actually working better than many outdated marketing methods.
Thanks to growth of content marketing, today businesses are not limiting themselves to one or two popular content types. No, they're experimenting with various kinds of content. This diversification in a way is making content marketing even more viable.
However, in order to find real success with content marketing, creating good content isn't enough. It's an important first step, but there's more that you need to do.
You also have to make sure your content gets consumed by your target audience. And that can only happen when they are able to find it at the right time. Adding more bells and whistles to your content won't work if it isn't getting any exposure.
This is where content optimization comes in. It's what makes your content stand out from the rest and adds more life to your marketing. Which makes it an integral part of any quality, result-oriented content marketing.
In the insider marketing circles, content optimization is seen as the third important factor that helps you make your content marketing campaign successful. It's the lever that pushes the other two.
1st comes the content creation part.
2nd is content promotion.
And finally, the 3rd is content optimization.
With even one of these missing from your content marketing, you'll have a hard time turning your readers into customers.
4 Content Optimization Tips to Grow Your Traffic
There's no doubt content optimization makes your content marketing strategy stronger. But in order to actually make it work, you need to ensure you're doing it right.
Let's look into a few useful content optimization tips that you can use make your business site stand out and attract more targeted traffic…
Tip #1: Use Keywords Properly
Even when you're writing detailed content and focusing on the topic at hand, you cannot and should not ignore the importance of keywords.
Incorporating the right keywords properly will help you increase the ranking for those particular keywords. You need to make a list of your important, target keywords and use them in the right places. Here's how to do it:
Page Title: Most people with some SEO knowledge know that they need to place their primary keyword in the page title. But did you know that by placing it in the beginning of the title you boost your chances of getting ranked higher?

Also, make sure to practice brevity when writing your titles because longer titles tend to get cut off. Keep the title length between 30 to 60 characters.

Meta Description: The meta description is what people read in the search engine result pages, right after they read the title. These little snippets are where you should embed your important keywords, since they get bolded when people search for them.
Doing so not only makes your meta description more meaningful, but also helps it stand out from the other search results. Which increases your click-through rate, an SEO factor that can give you better ranking.
Body Content: Including your significant keywords in the body text, particularly in the first paragraph can make a real difference to how you rank. But if you look around, you'll find many forget to do this.

Inbound Links: Keywords in anchor text allows you to add more weight to your internal linking and gives better direction to the search engine spiders. So make sure to add inbound links from other relevant pages of your site to your primary page, using the relevant keywords in the anchor text.


Image Optimization: Adding your important keywords to your images' alt tags, file names, caption etc. is a part of content optimization because your images after all are a part of your site's content.
When you're placing keywords on your site, do so naturally. Avoid stuffing your content with too many keywords. Give your reader a better experience by writing for them, and not solely for the search engines.
Tip #2: Improve Organic CTR
Ranking in the search engine result pages for your choice of keywords is only one part of the equation. The other part is actually getting people to click on your search listing. Getting a low organic CTR can have a negative impact on your SEO efforts and affect your ROI.
But can you really improve your organic CTR? Of course you can. When PPC advertisers can spend time crafting the perfect ad copy to increase their CTR, why can't you do the same with organic search?
Here are 3 ways to do it:
Try and experiment with your title and meta description in terms of length and keywords. It's the first step you can take to improve your organic CTR. Also, don't forget to test the call to action that appears in your description.
Use structured markup (like reviews) to stand out from the other websites in the search engine result pages. Any reviews your product has can showcased here as a social proof, which makes your site look different and may increase your CTR.
Leverage Google's featured snippets because more and more people are asking questions to Google, instead of a keyword query. If you've created content that answers a particular question then Google may use your content as an direct answer to it. Which automatically pushes your site to the top of the SERPs.
Tip #3: Update Your Old Content
When content optimization is done right, it can help you get the most out of your existing content. Rewriting and updating your content is a part of content optimization and can help you deliver consistent value without publishing new content.
Regardless of the industry you are operating in, there will be changes happening that your audience needs to be aware of. Keep up with these trends and update your content to reflect them.

The last thing you want is your content to become outdated. You want to increase its value with time for both old and new readers. Also, you can re-promote your revamped content and drive more traffic back to your site.
Here's some data from updating and republishing old blog posts:
For example, if you're in the finance industry, you'll find that some of the topics you covered the past are no longer valid. Your old content will bring little value to your audience if they're not getting current information.
When updating your content, you should also re-evaluate the links, tools, and resources mentioned. What worked back then, may not be working now. Taking this approach can help you keep your content fresh and valuable over a long period of time.
Tip #4: Be Reader-Friendly
Let's face it, when people visit your website via Google, they don't want a confusing experience. Making your content readable is the most basic step you can take to give your visitors a great user experience.
People do not want to stare at a block of text that is devoid any images and is a pain to read. If they do experience something like this on your site, rest assured they won't think twice before hitting the back button and skip to the next result (which might be your competitor).
A part of content optimization is to ensure your content is presented well and is easy on the eyes. That's how you get people to spend more time on your site and also convert better. So make your sure your content is in a scannable format.
Here are a few ways to be reader-friendly with your content.
Use shorter lines and paragraphs, with a lot of white space. Content this way is not only enjoyable to read but is also easily understood and digested.
Break the content into relevant subheadings so that people scanning can quickly find the part that interests them.
Add visuals wherever you can. They make the content look more appealing and inviting. Whether it's pictures or videos, any visual you use has to add value to the content and shouldn't be added just for the heck of it.
Make sure all your pages are optimized for a flawless mobile experience.
About The Author